Supplies with the theme Coin Albums Popular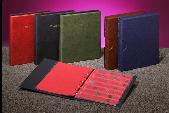 Coin Albums With Leaves Of 12,20,30,42 Or 63 Compartments. Red Interleaves, Ringbinder System. Our coin album ???Populair??? is a perfect storage system for all coin collections. Five different transparent coin leaves per album are included, so that almost every coin size can be collected in this album. In the colourful Euro coin albums you can collect 4 complete series of 8 Euro coins per leaf.
Read More
There are no products matching the selection. Try a different sorting/filtering method.